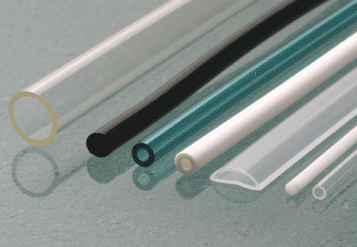 IPE's Thermoplastic Group utilizes experience, project analysis, creativity and current manufacturing practices to provide the solution to your thermoplastic extrusion design challenges. Starting from the first contact we are committed to understanding your project requirements and will tailor a development program to your time, cost and project needs. With more than 20 years of custom extrusion experience we apply that knowledge to every project and can aid in optimizing your custom extrusion for aesthetics, cost and or functionality.
We have the experience and capability to process most all commodity and engineering resins.
---
Size and Tolerance Capabilities
As a custom extruder of tubing, profiles and rod or filament we have a relatively wide range of capabilities and experience. Tubing size ranges from .010" (.25mm) to upwards of .375" (9.5mm) in outside diameter with possible wall thicknesses from .001" (.025mm) to .080" (2mm). Extruded profiles can be made up to .750" (19mm) wide and can have many varying designs and configurations. Rods or filament can be made at .010" (.25mm) to .250" (6.5mm) diameters and can be spooled or cut to straight lengths. All extrusions can be cut to precise lengths from .250" (6.5mm) up to 10 feet.
Tolerances on extrusions are held to the tightest tolerances possible, as low as +/- .0005" (.0125mm). The capable tolerance on a dimension is a function of the overall size of the specific dimension. So while very tight tolerances can be held on small parts and features, generally tolerances get larger as the associated dimension grows but the average tolerance is usually +/- .002" to .003" (.05mm to .075mm). Cut length tolerances follow the same convention and can be as small as +/- .020" (.5mm) up to +/- .125" (3mm).
---
Materials
We have the capability and experience to extrude most thermoplastics, from commodity resins up to engineering resins and including high end engineering resins or "ultra polymers". Our knowledge of the wide variety of plastic types and grades aids in process development specific to your extrusion project as well as allows the insight necessary to aid in helping our customers choose the material and grade best suited to their application including physical, chemical and temperature properties, regulatory approvals and aesthetics.
Materials that we can process include: TPE, TPV, polyurethane (Tecoflex), LDPE, LLDPE, PP, PEBA (Pebax), PVDF (Kynar), PC, HIPS, PEEK, PSU, PPSU (Radel), PAEK, PEI (Ultem), SRP (PrimoSpire), acetal, ABS, acrylic, PBT and nylon. While this is a fairly comprehensive list of most major thermoplastic families we can draw upon our experience and creativity to process other materials and grades not listed here as well as custom compounds and R&D materials.
International Polymer Engineering is a supply and technology partner of Solvay Specialty Polymers. We routinely extrude several of Solvay's Ultra Polymers like KetaSpire PEEK, PrimoSpire SRP, Radel PPSU and AvaSpire PAEK. These materials meet many of the most demanding requirements across several industries and enable designers and engineers to develop plastic components that further technology and applications.
Materials can be customized to meet you project specifications with additives like anti-static, radio-opacifiers, special effects, light transmission modifiers and any Pantone color or custom color matches.
---
Markets
Thermoplastic materials are utilized in most every product in the world now and IPE is focused on manufacturing custom extrusions for many of the higher requirement applications. Being an ISO 9001 certified company positions us to supply to companies and applications that have need of higher standards. We manufacture products for the medical, aerospace, electronics, food contact, LED lenses, custom 3D printing (FDM) feedstock and consumer industries.
A large portion of our business is R&D projects. We understand the challenges of developing a new product and bringing it to market, the time involved, the occasional cost constraints and the creativity and process knowledge necessary to aid in the development of a prototype and then transitioning to production level quantities. While no job is too small we also have the capacity to produce medium to large production projects.
We have a special focus on our manufacturing neighbors in the Phoenix, Arizona valley and the needs they have and the importance that a close manufacturing relationship can have on the success of a project and a company. We work with customers all over the United States as well as internationally.
---
Design Considerations
While our general size ranges are a good guide of our capability we routinely go outside these limits to meet our customers custom extrusion needs. When developing a new extruded product it is good to keep in mind several important design considerations.
First, not all materials are suited to be extruded in all configurations. Differences between melt flow of the molten material, a material's durometer or hardness, processing methods and the heating and cooling properties can all dictate the possibilities of extruding a particular material into a certain configuration. The extensive experience and knowledge of different extrusion processes and the vast array of thermoplastic materials and their properties allows IPE to offer the design information necessary to aid in your successful extruded part design.
Second, the most successful extrusion designs utilize a consistent wall thickness throughout the part. This ensures an even flow of material across the extrusion. While uneven wall thicknesses are possible and frequently done, they can add greatly to the cost and time involved in developing an extrusion.
Lastly, some times extrusions are considered "simple" or a less complex process or part and this is often not the case. When the first two design considerations are not taken into account, an extrusion can become needlessly complex. Involving the extrusion design team early on in your device or product design can eliminate some of these complexities but also extrusion design capabilities that your design team may not be aware of can simplify or add functionality to your overall product. At times the complexity of an extrusion can not be avoided or is necessary and involving the extrusion design team early can give your team early warning of higher costs or extended development times that can ensure that your project is not met with any surprises and adheres to the time line.
International Polymer Engineering is a supply and technology partner of Solvay Specialty Polymers.